Foam Home Spray Foam Insulation in La Crosse announces the recent launch of their ground breaking spray foam insulation installation service in the state of Wisconsin and surrounding areas.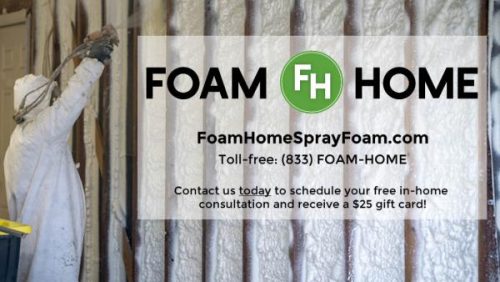 Onalaska, United States - July 19, 2018 /PressCable/ —
Foam Home Spray Foam Insulation of La Crosse, Wisconsin, doing business as Foam Home, LLC, has recently launched their new website with information about the benefits of spray foam insulation and is now offering customers a $25 gift card for every in-home consultation.
As indicated on the website, using spray foam insulation in a home or commercial building provides a number of benefits. Most notably, it offers significant heating and cooling savings each month while improving energy efficiency. Spray foam insulation reduces outside noise, allergens, mold growth, pest intrusions, and the risk of drafts.
Foam Home indicated on their website that up to 40% of the energy within a home or commercial building is wasted while escaping through the attic. In order to block any unwanted air flow, attics should to be completely sealed. The company achieves this by creating a "thermal envelope" within the attic to ensure the seal. Homeowners, commercial building owners and builders needing attic insulation in Wisconsin or Minnesota should look no further than Foam Home, as they are the leading spray foam insulation specialists within the area.
"Attic insulation will likely provide the biggest value per dollar, so to speak. Thanks to Foam Home, customers experience several benefits." said Heather Nokken, Owner/Chief Executive. "The HVAC system will run more efficiently, especially if it is installed in the roof as well as around the duct work. People will notice their units running more efficiently and using less energy. That means lower energy bills and a more comfortable home environment for the family."
Foam Home offers a free, no obligation quote to anyone who is interested in the advantages and money-saving qualities of spray foam insulation. Homeowners may contact the company toll-free at (833) FOAM-HOME or by visiting https://foamhomesprayfoam.com to schedule an in-home consultation and receive a $25 gift card.
About Foam Home Spray Foam Insulation La Crosse: The company is known as one of the leading companies within the spray foam insulation industry in Wisconsin and Minnesota. The staff prides themselves on being professional, hard-working, clean and punctual. Foam Home offers a variety of solutions for local homes and businesses when it comes to insulating roofs, attics, walls and ceilings. The company offers free, no-obligation consultations to their customers and enjoys helping the community cut costs on their energy bills.
Foam Home Spray Foam Insulation La Crosse, W5496 County Road S., Onalaska, WI 54650 Call toll-free (833) FOAM-HOME or (833) 362-6466
Read about Foam Home Spray Foam Insulation La Crosse on https://www.facebook.com/foamhomesprayfoam https://twitter.com/foam_home https://www.manta.com/c/mhp4q0f/foam-home
Contact Info:
Name: Heather Nokken
Email: info@foamhomesprayfoam.com
Organization: Foam Home, LLC
Address: W5496 County Road S., Onalaska, WI 54650, United States
Phone: +1-833-362-6466
For more information, please visit https://foamhomesprayfoam.com
Source: PressCable
Release ID: 380246