Ignite Medispa has announced its opening on July 1st where it will offer a range of medi-facial treatments including "Replenish and Restore" and "Refresh and Renew" and other cosmetic options.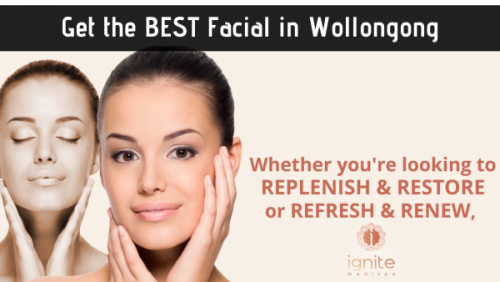 Wollongong, Australia - June 12, 2019 /NewsNetwork/ —
A new selection of medi-facial treatments are launching at Ignite Medispa in Wollongong on July 1st, offering patients the ability to get the best, newest, facial treatment, possibilities available. Ignite Medispa is opening at the Wollongong Private Hospital, with a comprehensive range of treatments for local patients.
For more information please visit the website here: https://ignitemedispa.com.au
Ignite Medispa is Australia's first medispa located inside a private hospital, and was founded by Dr Niro Sivathasan. It aims to redefine the medical industry by bringing together unsurpassed standards of quality, the highest level of patient care, and state of the art equipment.
It will be a multidisciplinary environment that aims to provide excellence in both beauty treatments and body sculpting. Cosmetic medicine treatments, surgery and dentistry will also be available.
The focus of the new medispa is on providing patients with an unforgettable experience. To this end, from the moment they walk through the door they will find a refined ambiance with quality and expertise at its forefront.
All facial assessments will be comprehensive, and evaluate all aspects of the patient's skin, such as the skin's tone and texture, volume, definition and position.
Additionally, a complimentary skin assessment with the dermal therapist featuring the Canfield Assessment System will be included with each patient's first treatment.
Dr Niro said: "Beauty is more than just isolated evaluation; rather, it's about the interplay of all the different components/ considerations. Come to see our super skin therapist or one of our outstanding doctors."
Two of the specialty medifacials at Ignite Medispa include the "Replenish and Restore" package, which includes gentle exfoliation, followed by a powerful infusion of vitamins and peptides.and the "Refresh and Renew" package, which includes Synergistic cocktail of retinol and fruit enzymes to rejuvenate and reset the skin. Both include a Bio-alginate mask to optimize moisture-levels, as well as 15 mL Amaranté RNR potent serum to take home.
Optional facial treatments include chemical peels to help in the removal of surface-level aged skin, and to encourage cell turnover.
LED light treatment will also be available, which is great for calming angry skin and for encouraging skin healing.
For those wanting more advanced treatments, Ignite Medispa offers the Aquagold delivery system, with customized treatments formulated by doctors and delivered through 24 karat gold microchannels for direct dermal infusion.
Those wishing to find out more can visit the Ignite Medispa website on the link provided above and watch the video below as well.